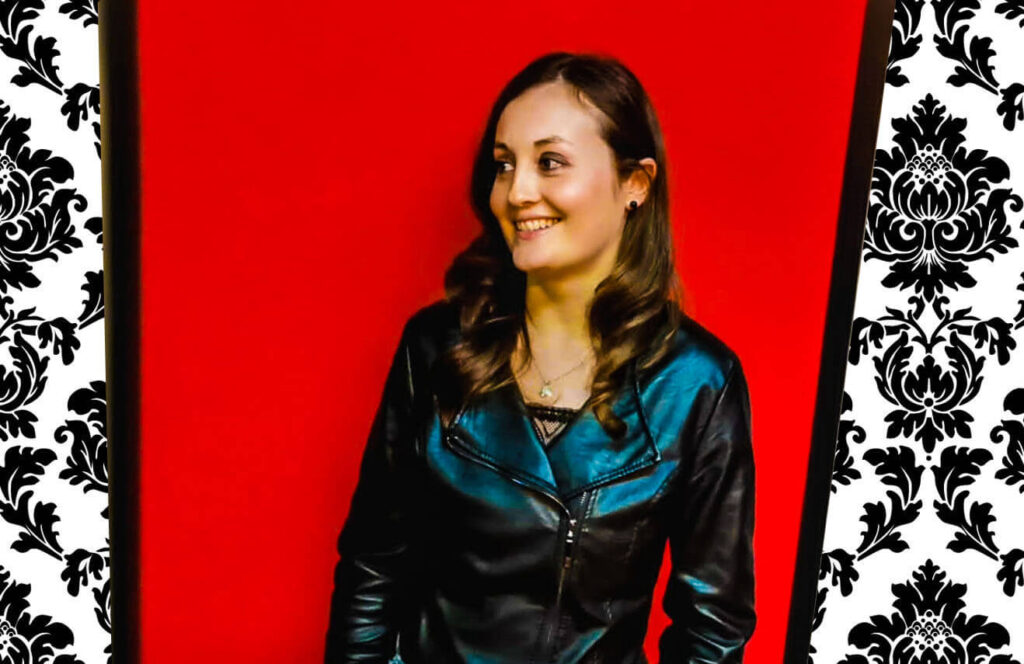 Each artist expresses their emotions and their inner world in the way they think is the best. Especially as regards art, I like to learn and know what lies behind a work.

Sara Malini
In this interview we get to know Sara Malini and her high-rate Rock portraits that certainly do not go unnoticed.
Hi Sara, tell us a little bit about your artistic path. When did you decide to start painting?
Hi Michela!
The visual arts have always fascinated me, since I was a child. At school, subjects related to creativity have always been among my favorites and in my free time I have always loved drawing, mainly portraits.
I undertook studies of advertising graphics and then I also studied communication, in all its forms, during university years. In the end I landed in the publishing world: even to imagine and to design a book is needed a good dose of inventiveness!
Unfortunately, both university and work have kept me away from drawing for several years.
I started drawing again during the first pandemic lockdown in March 2020: having so much, too much free time to fill, it prompted me to pick up the pencil. It was tough at first, but it helped me a lot, a real therapeutic effect.
Now I can't imagine my life without drawing!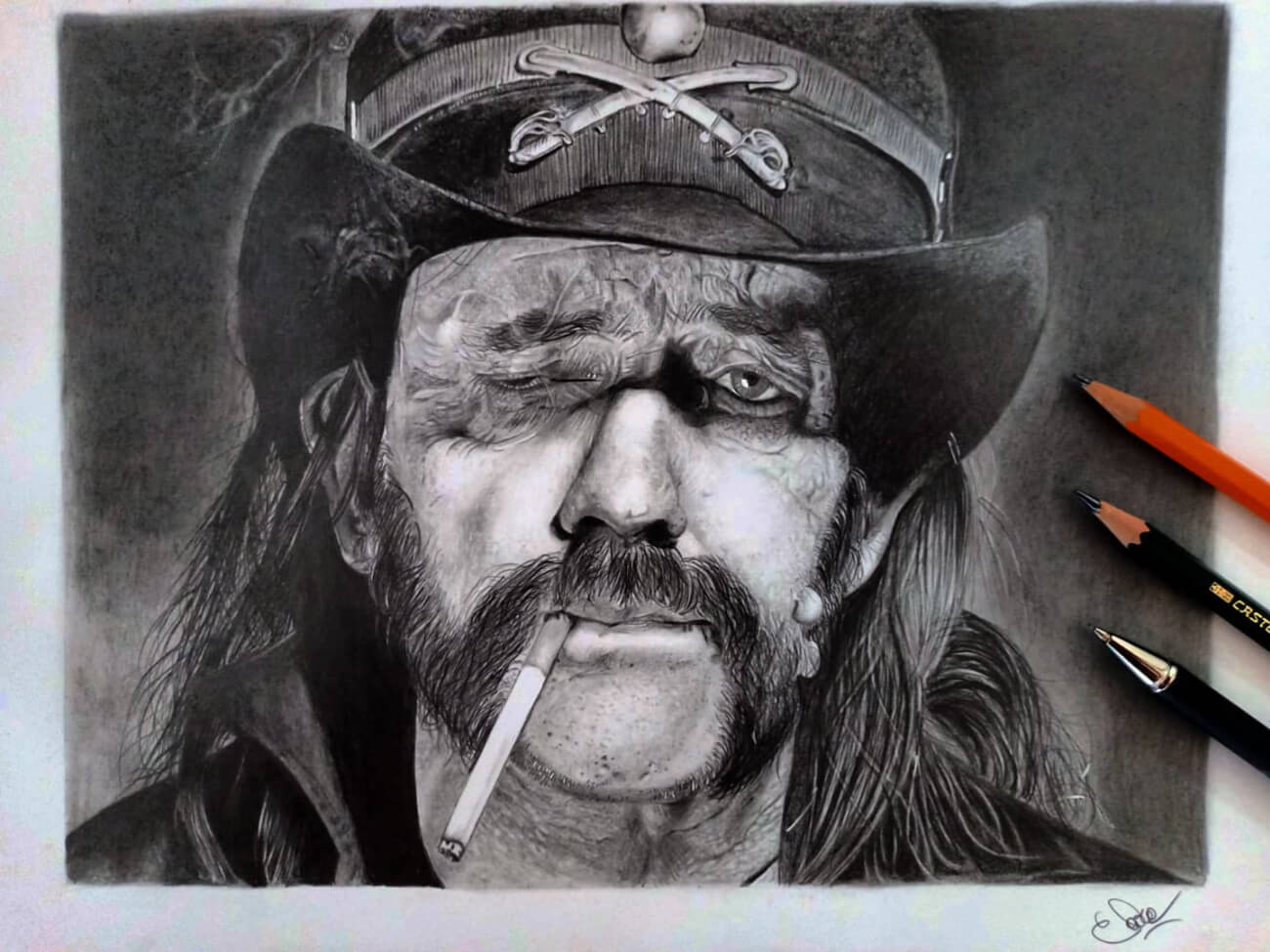 There is a lot of attention to detail in your portraits. How would you define your style and what techniques do you use to create these artworks?
I would say that at the moment my portraits are very realistic, even if my ambition is to get to hyperrealism.
My first drawings didn't have so many details. Then I discovered the hyperrealistic style that at first surprised me and at the same time left me perplexed. I asked myself: "Why should I take a portrait that looks like a photograph, when I can just take a shot of the subject?". But slowly I changed my mind. I cannot speak for all the artists who have taken this path, but in my opinion hyperrealism allows me to know better the character I am portraying, capturing particular looks or attitudes. I noticed how time and lifestyle mark people's faces in some way: imperfections, scars, expression lines make us unique. They are like real "fingerprints" that tell the story of each of us.
It is a job that usually takes me several hours or even days: I start by tracing the main lines of the face and then I give three-dimensionality by adding layers upon layers of graphite of different softness that I blend repeatedly, to finally add details and highlights using eraser with dissimilar consistensies and sizes. Drawing all these elements on paper requires a lot of patience and dedication.
Many subjects are rock musicians. How do you pick them?
It's true! I'm a huge fan of this kind of music and its various facets since I was a teenage. It is inevitable that often the choice of the subject falls on rock musicians because they are characters with whom I think I feel a certain affinity after so many years of listening to their music!
But lately I am also interested in their life and their personality, as well as in their work. For example, a couple of months ago I portrayed Cristina Scabbia, frontwoman of Lacuna Coil. Although I don't know their discography so much (I absolutely have to remedy), I follow her on the main social networks and I can say that, in addition to the great talent, what she manages to show is the image of a nice, self-deprecating woman with transversal interests. Definitely a non-trivial character who impressed me positively and therefore I decided to dedicate a drawing to her.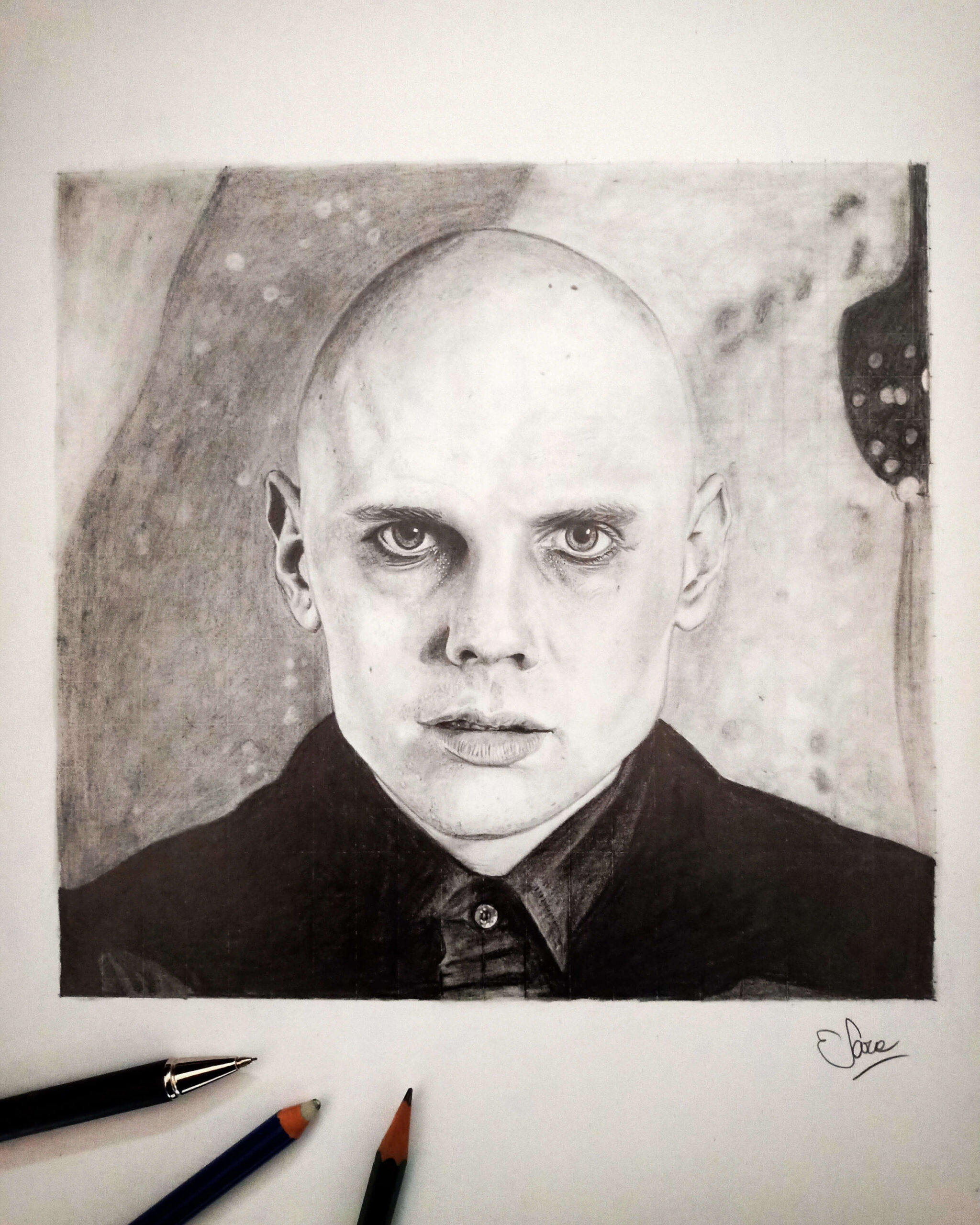 It seems that music is the main inspiration of your art, is that right? What is your conception of art and music?
Music is for sure one of the main sources of inspiration, but it isn't the only one. For example, I also love cinema and in fact among my favorite subjects there are actors and actresses. Sometimes the idea of ​​a portrait comes after watching a movie over and over again or because I was impressed by the character of a story or by the acting skills. In other cases I like the scenes or the frames of a film so much that make me want to sketch them on paper.
I also draw inspiration from art and literature: in the past I enjoyed portraying Salvador Dalí and Edgar Allan Poe.
I don't have a single conception of art and music. Each artist expresses their emotions and their inner world in the way they think is the best. Especially as regards art, I like to learn and know what lies behind a work. I believe that often the basis of a refusal of an artistic language hides only a problem of misunderstanding.
On the other hand, talking about music, I tend to be more selective because I link this kind of art to fun and free time. When I choose the soundtrack for a walk or for reading a book I prefer to opt for something that is more close to my tastes.
We noticed a new approach in adding a touch of color on black and white that makes your work even more distinctive. Is it an occasional experimentation or are you going to continue?
In the last portrait I made, dedicated to David Bowie, it was an experimentation dictated by the need to make the drawing more representative of the subject. In reality, the first colour test was with the portrait of Cristina Scabbia, where I added the characteristic make-up she uses during live concerts: the effect immediately seemed more complete and distinctive.
Returning to the White Duke, I chose one of his iconic photos taken on the occasion of the release of the Aladdin Sane album. The beautiful red and blue lightning bolt make-up painted on his face wouldn't have been the same in black and white.
The result satisfied me and therefore I don't rule out the possibility of adding a touch of colour in the next portraits, obviously subject permitting!
What are you working on?
Right now I'm thinking of portraying Johnny Cash. The idea came to me after seeing the film dedicated to his story called "Walk the Line" with Joaquin Phoenix.
I don't really know his music, but I was impressed by his troubled and out of the ordinary life. Furthermore, he was an eclectic artist: known mainly for country music, he experienced even rock, blues, folk and gospel too! A truly multifaceted musician.
The portrait will be strictly in black and white because, from my point of view, "The Man in Black" could not be represented otherwise.
Thank You!
Thanks to you and all the Tabloud staff!