La grafica di quella copertina mi ha aperto gli occhi e dato una visione nuova, la visione del tutto.
Una scimmia, una bottiglia di profumo e quattro foto tessere.

Manuel Cossu
L'intervista di oggi, è un viaggio nell'arte punk e visionaria di Manuel Cossu, artista autentico e mai convenzionale e batterista della band The Manges.
Ciao Manuel, com'è avvenuto il tuo incontro con le arti visive?
Una scimmia, una bottiglia di profumo e quattro foto tessere.
È la copertina di un bootleg dei Ramones: "Paco Ramone pour homme".
La grafica di quella copertina mi ha aperto gli occhi e dato una visione nuova, la visione del tutto.
Una scimmia, una bottiglia di profumo e quattro foto tessere.
Ecco il mio bagaglio.
I soggetti protagonisti delle tue opere sono spesso personaggi di fine secolo scorso . Da Pertini a Elvis a Franco Battiato. Come fai a mantenere così vividi i ricordi e la passione del passato in un mondo dove tutto è veloce ed effimero?
Il presente lo sopravvivo, il futuro è un posto dove non mi vedo passarla bene. Il passato è fatto di roba che non ho vissuto, che mi è stato raccontato. Dai gruppi Ultras anni 80, ai concerti mitici, a storie raccontate romanzate, ingigantite, indorate. Il passato è un posto sporco e ripulito dai racconti. Cerco di vivere nel vissuto degli altri, tanto sono straniero ovunque…tanto vale viaggiare dove voglio. Nella mia testa il meglio è indietro, il resto è una fottuta sala d'aspetto.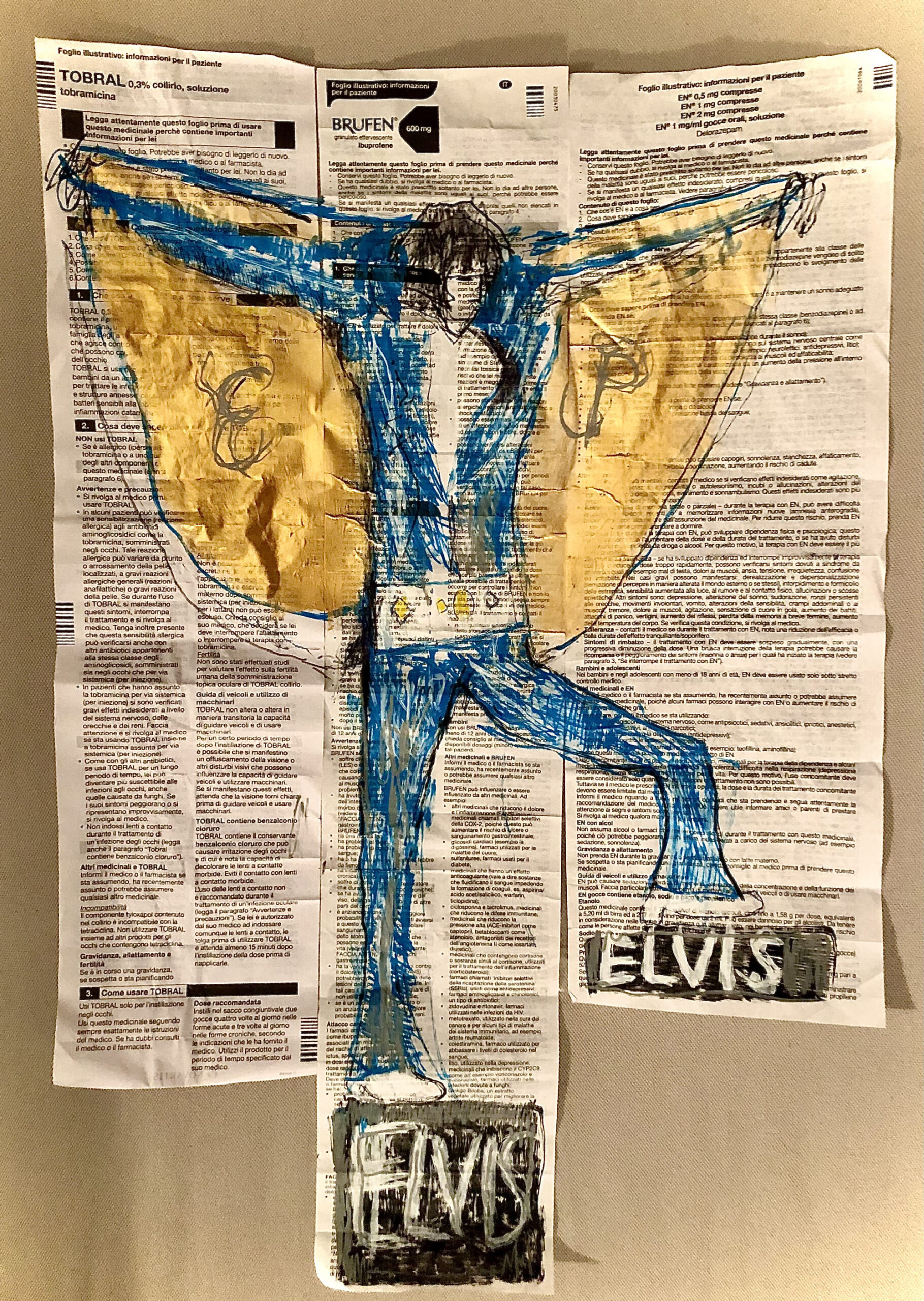 I personaggi che ritrai sono spesso icone dell'immaginario collettivo, spogliati del mito e raccontati nella loro dimensione più umana, anche quando si tratta di personaggi dei fumetti. Cosa ti spinge ad entrare così in intimità con figure che sembrano irraggiungibili? Quanto è importante avere dei miti, dei punti di riferimento per un artista?
È l'unico rapporto serio che ho instaurato in vita mia, con dei personaggi e non con le persone. E questi personaggi li ho resi persone appunto per non sentirmi solo, troppo solo. Attenti, sono amico di Alan Ford, di Mickey Spillane e dei RAMONES. Sono fidanzato con Lilli Carati e ogni tanto mi appare la Madonna. La mia vita è una BOMBA. Avere dei miti, dei modelli, o come li vuoi chiamare, è importante come respirare. Santificano ed esorcizzano le tue vittorie e le tue sconfitte.
Il tuo legame con i Ramones, e con Dee Dee Ramone in particolare, emerge in tante tue opere. Lascio a te la parola.
Dee Dee Ramone è come un boss della Yakuza. Io sono uno sgherro di basso livello con forte senso del dovere e forte senso di riconoscenza. Mi taglierei un dito per il mio boss! Lo dipingo sempre meno perché sono diventato più esigente per quanto riguarda il risultato e ogni quadro inerente al mio boss deve essere perfetto, altrimenti tocca tagliarmi un dito per punirmi!
Oltre ad essere un artista visivo, hai anche una carriera trentennale come batterista dei Manges. Hai avuto modo di esplorare e vivere in prima persona entrambe le forme artistiche. In che misura la tua arte è legata alla musica? Esiste in qualche modo una colonna sonora mentre crei?
Tantissimo. Vengo dai Ram. Arturo Vega, il creatore del logo RAMONES mi ha spinto a dipingere. Ha detto che il mio stile gli piaceva e me lo ha dimostrato inserendo i miei primi disegni nel primo sito ufficiale Ramones. Mi ha dato l'ok, da quel giorno sono stato accettato dalla Yakuza. Basso livello, ma sta bene cosi. Mi ammalerò come i miei capi e l'accetterò. Colonna sonora? Codice Ram. Bootleg Ram, Somebody put something in my drink in qualsiasi versione live. Kick the jukebox slam the floor…
"lilli carati 30 telefonate" è l'artzine di recentissima pubblicazione che contiene 30 tue opere dedicate a lei in cui il mezzo narrativo è un telefono a gettoni.
Che cosa ti lega a Lilli Carati e perché proprio il telefono a gettoni?
Lilli Carati? Nel tempo sono diventato refrattario alla bellezza. Non mi stupisce o rapisce niente. Lilli Carati è arrivata quando avevo già cuore, cervello e anima spenti. E ha fatto ripartire l'impianto elettrico. Bella, una bellezza che mi commuove, una storia di vita fatta di cose brutte, ma non sono bastate ad annientarla. Una dea. Il telefono a gettoni è una tecnologia semplice, odio la tecnologia, amo la semplicità. Metti il gettone e funziona. Sai quanto gettoni hai, sai com'è gestire il tempo, la telefonata. Impari a parlare sintetico come in American Tabloid di James Ellroy: A B C, semplice. Vorrei un milione di vecchie lire in gettoni per stare al telefono ore con Lilli Carati.
Su cosa stai lavorando adesso?
Sto preparando dei disegni enormi su carta dedicati alle processioni religiose. Uno dei grandi spettacoli umani che mi cattura: i fedeli, la polizia, i preti, la folla. La statua mobile, traballante, portata avanti dai problemi dei fedeli. La forza cinetica sono i problemi, le speranze e la devozione. Un kaos ordinato fatto di solitudine e grida strozzate che chiedono aiuto. Che se ci pensi in quanto a premesse è simile a un gratta e vinci. Ma li c'è magia. IO CREDO IN TUTTO.
Profilo Instagram di Manuel Cossu
La pagina di Manuel su Tabloud