Mi piace pensare che in qualche maniera certe frequenze guidino la mano, suggeriscano visioni alla mente e si traducano in linee, spazi, ombre.

Maurizio Di Bona
In questo incontro Maurizio Di Bona (theHand) ci racconta della collaborazione con The Cranberries, della passione per i chitarristi e per il fumetto.
Ciao Maurizio, come è avvenuto il tuo incontro con le arti visive? Quando hai capito che sarebbe stata la tua strada?
Non ho ancora la certezza che si tratti di una strada e dove possa condurre, soprattutto alla luce dell'ennesima rivoluzione digitale. Mi appare più come una piazza, in cui mi trovo bene da sempre perchè confluiscono cose interessanti da tutte le direzioni. Dai primi scarabocchi alle elementari sui quaderni a quadretti alle strambe elaborazioni grafiche degli ultimi giorni per il metaverso, mi è sempre apparso chiaro e naturale che dovessi occuparmi di questa roba qui e non di altro.
Chi sono stati i tuoi riferimenti professionali e stilistici?
Quando ero piccolo trovavo divertente ed appagante disegnare tutto quello che vedevo in tv, dai personaggi dei telefilm dell'epoca come Furia, Zorro e Orzowei ai robot dei cartoni giapponesi. Le immagini che venivano fuori dall'ingombrante scatolone catodico che avevamo in salotto negli anni 70/80 sono state la mia scuola. Poi negli anni a venire è toccato ai fumetti di ogni tipo fare da "libri di testo" per proseguire l'opera di perfezionamento tuttora in corso. Eviterei la lista dei nomi, anche perchè avendo operato da onnivoro, l'elenco sarebbe lungo.
Hai diversi lavori in campo editoriale, tra questi "The Handrix Experience", 70 chitarristi storici raccontati nel nome di Jimi Hendrix. Ti va di raccontarci qualcosa di questo progetto?
"Tutta colpa di Jimi"! Come recito scherzando nell'introduzione. Inizialmente avevo in mente di fare una semplice biografia illustrata su Hendrix, folgorato dall'ascolto reiterato di certi suoi pezzi. Sarebbe stata anche l'occasione per una rivincita sulla chitarra, dopo i tentativi fallimentari per imparare a suonarla come si deve. Poi l'ho sognato e nel sogno lui mi chiedeva lumi su altri chitarristi che non aveva incontrato o non poteva conoscere… Così il progetto un po' alla volta si è trasformato allargandosi, ed io ho finito per disegnarne 70: da David Gilmour ad Eric Clapton, da Steve Vai a Joe Satriani, passando per Eddie Van Halen, Tom Morello e the Edge. E' dall'anno scorso al vaglio di più editori che ancora non si pronunciano. Attendiamo fiduciosi.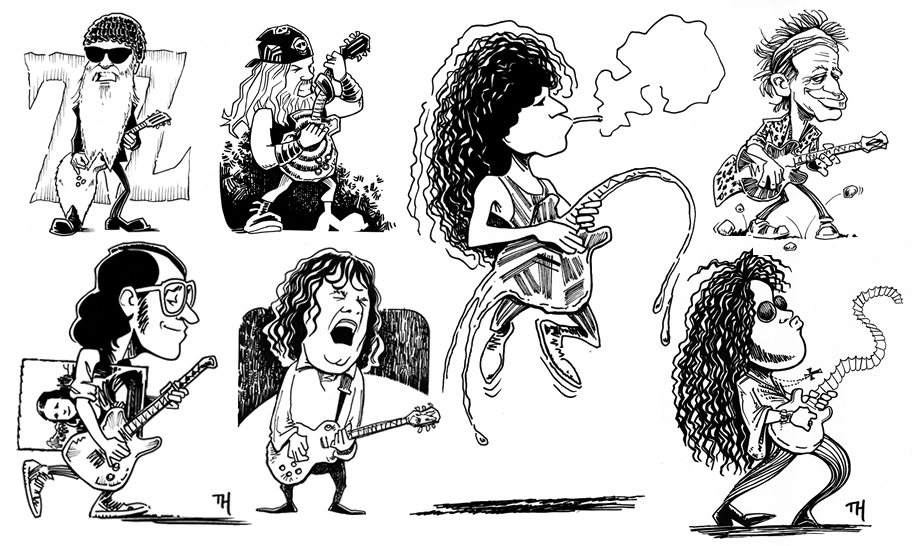 The Cranberries e Dolores O'Riordan, che cosa ti lega a questa artista?
Ho disegnato il merchandise per i Cranberries prima e per Dolores dopo, quando con la band in pausa, si è concessa due album da solista.
Era il lontano 1994 quando dalla radio che avevo sulla scrivania esplose per la prima volta l'urlo di Zombie. Non avevo idea di chi ci fosse dietro quella voce ma mi aveva già stregato. Recuperai una foto del gruppo da un magazine in edicola, che era il google dell'epoca, disegnai un po' di cose che ritraevano i quattro ragazzi di Limerick, e andai in Irlanda perchè volevo conoscerli.
Dopo qualche tempo si fece vivo il manager della band, nonchè marito di Dolores, che entusiasta dei disegni visti, propose le prime collaborazioni. Quando ho potuto incontrarla, solo nel 2002 a Firenze in occasione dello Stars Tour, confermai l'impressione di avere a che fare con un personaggio saltato fuori da un libro di fiabe.
La tragica e improvvisa dipartita proprio il 15 gennaio di 4 anni fa è ancora motivo di tristezza oltre che di sospesa incredulità.
Mi ritrovo adesso con innumerevoli bozze e disegni per progetti di cui si era vagheggiato ed i commenti dei fans che ne chiedono di altri perchè aiutino a mantenerne vivo il ricordo. Siamo orfani di un'audiocreatura di rara bellezza, un capolavoro sonoro che dall'altrove in cui è finita, continua ad essere fonte di ispirazione.
Che ruolo ha la musica nel tuo lavoro?
Non è un vero e proprio metodo ma in generale sono poche le volte che disegno senza ascoltare qualcosa. Non solo per azzerare inutili rumori di fondo ma proprio per cercare un collegamento tra quello che ascolto e quello che disegno, soprattutto se il soggetto sul foglio e quello che suona o canta in cuffia coincidono. Mi piace pensare che in qualche maniera certe frequenze guidino la mano, suggeriscano visioni alla mente e si traducano in linee, spazi, ombre.
Su cosa stai lavorando adesso?
Ho più cose sul tavolo che tento di far avanzare, ma il tempo è sempre poco e sono costretto a prediligere quello che poi ha più possibilità di trovare un editore che non si faccia pregare troppo. Il libro sui chitarristi di cui sopra è sicuramente uno di quelli che vorrei chiudere nell'immediato. C'è poi un fumetto fantascientifico che tratta di meccanica quantistica, universi paralleli e di suoni e frequenze che veicolano informazioni superando la barriera spazio-tempo. Sto parlando di Diane999, cominciato non a caso 23 anni fa e azzerato più volte per continua insoddisfazione… perchè a volta anche complicarsi l'esistenza può avere il suo fascino!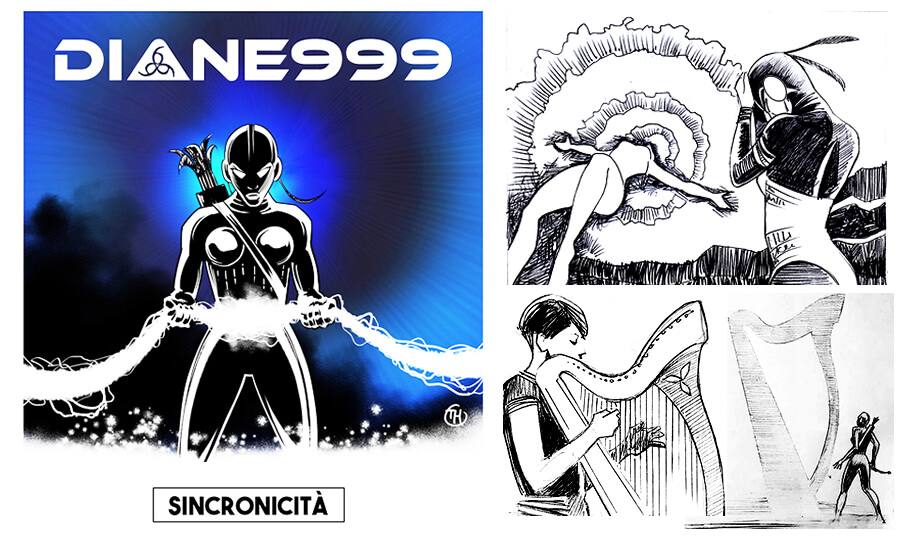 Sito dell'autore
Portfolio on line
Progetto Diane999
Profilo Instagram
La pagina di theHand su Tabloud