A talent can always be a path to another talent.

Maike Bispo
In this interview, Maike Bispo tell us about his art as result of many artistic, cultural and musical influences.
Hi Maike, please tell us a little bit about your artistic path.
My professional trajectory is a bit chaotic, but always within the visual arts. I entered a very famous at the time art high school in São Paulo, when I was 14 years old, and from there I had the opportunity to meet people who later stood out in the market, such as the famous graffiti artists Gêmeos. At that time I had contact with many artistic languages. I developed different interests thanks to regular trips to the theater, dance shows, cinema, exhibitions, street art – things that, in an almost unconscious conscience, contributed to sharpen what would become my life language, the visual arts. I started working with scenography, and I was terrible (lol), I was a props assistant at samba schools, I worked with fashion production at SP-FashionWeek and Casa dos Criadores. Like many people I went through web design studios that I hated, I auditioned to work in animation studios and only later I entered the advertising illustration area, when I was called to be an assistant at a large illustration studio called 6BEstúdio. They were a reference in the advertising illustration sector in the 90s and early 2000s, which gave me some know-how to open my own studio in 2006. Superludico emerged as an illustration studio aimed at the publishing and advertising market. My main clients have always been the major advertising agencies in Brazil such as Almap BBDO, DM9DDB, LewLara TBWA and clients such as Puma, Fini, Mentos, Red Bull, Hot Wheels, the Havainas brand, British Airways airline and Mercedes-Benz. Through Superludico I participated in some festivals such as Cannes Lions, Clio Awards and had publications in the sector such as Luzers Archieve and Clube de Criação Brasil.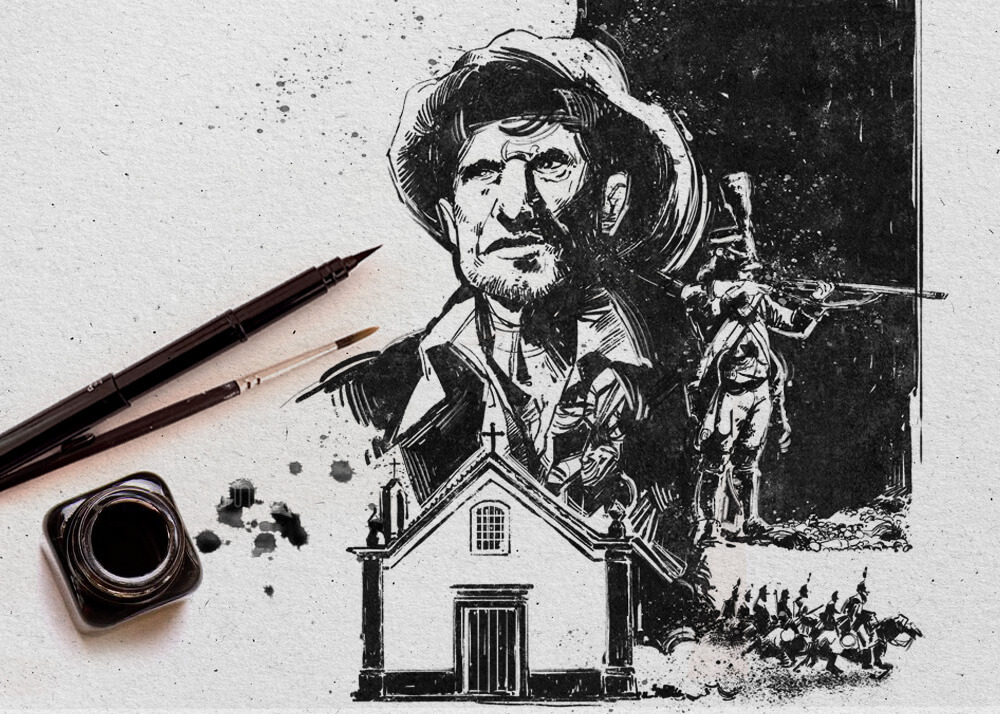 The studio phase had many ups and downs, including the death of my first partner and best friend Alex Borges in 2008. Our studio was invaded at dawn and in that action he was murdered. He was a bright and talented young man. He was my foundation for the arts and for life. This, without a doubt, was one of my most tragic moments. From there I continued our studio. I felt committed to giving my best to an idea we started together. A short time later, another partner joined and we made the company more robust, with a larger team, with better partnerships. It was a time when the studio grew a lot in visibility within the Brazilian advertising market.
Honestly, I discovered myself as an illustrator very late. I even thought I didn't have much talent for it (sometimes I still think the same). It was in the process of building a company that I start to enjoy it (Illustrations).
Initially I set up the studio because I thought I was very articulate with people and moving relationships. In the end, I used to like to make the connection between professionals, I liked to provide customer service, to create and do art direction – more than just sitting there at the computer producing images. But that's life. If you continue, despite adversity, it presents you with paths that are much better than your initial plans. A talent can always be a path to another talent.

Today I maintain the studio with my partner Felipe Pellisser, who works with animation. We serve a few customers in the advertising market. I try to dedicate myself more to author projects, I try to develop more personal/signature work. I have paid more attention to the heritage and cultural sector here in Portugal than advertising.
As a Brazilian living in Portugal, how and how much does the place where you live impact your work?
It was a big impact and for several reasons. Coming to Portugal and especially to Vila Nova da Barquinha, in the middle of the mountains, was "by chance", because Portugal was not part of the plans. I was in São Paulo and my idea was to go to New York. It was such a surprise because was something I didn't expect. New York was a plan, Vila Nova da Barquinha was a surprise. I needed a break from São Paulo especially after my studio almost went bankrupt and after my divorce.
In Portugal, I started to get interested in photography and especially in portrait photography and street photography, inspired by the French photographer Henri Cartier Bresson. I took some courses with great teachers in Lisbon and Porto. I started to share the photographic portraits on the Instagram and Facebook pages along with texts where I always told some funny story about the situation, the person or the group portrayed. At the same time, I started drawing people in ink, people from the village where I live, from train rides, subways, on the street, in cafes, bars. It was a good way to make friends and meet other artists. At that time I became part of some Sketch Urban groups in Portugal and Spain. In this context, I met even more people, expanded my friendships and became famous for drawing the human figure much more than architecture and nature, something very common in these meetings.
In Portugal I developed an interest in folk singing groups, or rancho groups as they are called here. I developed a special interest in the local culture, in the stories of the places, and from there I started to develop urban intervention projects, exhibitions, ideas for cultural products and editorial illustrations, always with this regional context. This gave me the opportunity to seek a language that was more personal and less advertising in my work. You know, culture is an economically complicated market, especially in Portugal where money circulates more slowly compared to Brazil (although there are more social differences there than here). Even so, I try to insist on different professional paths, which go through projects done for the city councils, applications for European funds, projects related to education, partnerships with some institutions, workshops at universities and competitions. I try to build a market, a new economy, a new way of working and a new life story. Because life always has to be new and we must always explore new possibilities without big conclusions, in my view.
Whether created by hand or digitally, realistic or stylized, the human figure looks central in your work. Why you love it so much and what does inspire you when creating a character?
Both drawing and photography, more than photographing and more than drawing, its what you want to be seen, it's a story. Because people want to consume a story.

During the last few years I studied drawing, painting and photography in several ateliers and art schools in Brazil and Portugal. One of the focuses of my work is character-design, human figure drawing and portraiture in both photography and drawing. My dedication to this line of work comes from my interest in people, in relationships, in living together, in their different anatomies and styles.
Using the human figure as a basis to create characters, decorative objects or communication pieces generates empathy and creates an infinite universe of possibilities to compose. I like people. I tend to like even the ones I don't…lol
While this sounds like an paradox, and it certainly is; I like it because they are all, in some way, a reference, a motivation and a reason for reflection.
Whether in the way of thinking, in their silhouettes, costumes, expressions, poses, postures, they are all references. Fat, thin, tall, short, well dressed or not, angry, wayward, nice, lucid, crazy, lunatic. So many differences, so many similarities.
I could write a lot about people I know, and the impressions of people I don't know, or vice versa. But my training and talents are different and that's why I always photograph and draw them.
Every artwork you published on Tabloud is inspired by a song. This is so fascinating to us. What is the creative process behind these works?
My process for making images is kind of chaotic, and I'm very scattered.
This happens because I don't have a unique style of illustration and also because I didn't have a traditional academic background. In the case of Tabloud, I've been making images made in Indian ink, normally with very high contrast, screentone, ink spots and few colors.
In that type of drawing, I rely a lot on photos that I take myself or from other photographers that I follow and collect.
Sometimes the process is manual, sometimes it is digital. I often work on a Cintiq and Adobe photoshop.
In both, the process is the same. I listen to music, I get lost, I see different images, I cut out what interests me, I explore different framings, I play with some geometric shape or a large spot to punctuate the direction of light and compose better with the space and sometimes I insert some playful elements like fish flying, mushrooms, insects, pieces of architecture, plants.
I have some artists who influenced me in this type of black and white work, such as the Italian master Sergio Toppi, the Americans Mike Mignola and Jason Shaw Alexander, the Spanish book illustrator and painter Paula Bonet (an icon for me), some forms of surrealism by the Bulgarian illustrator Eliza Ivanova, and some elegance by French fashion illustrators.
I recently gave some workshops at universities to show this method. It was very good in the sense that I created a process for myself, and exposed some reflection. There were many incredible results from the participants. Giving some classes, even if they were short, helped me a lot, and I was happy to have helped the participants to think different about drawing.
Drawing helps with that, doesn't it? Make you try to think otherwise.
Is there a soundtrack even when working on other projects? What role does the music play in your work?
Many songs, many styles, many artists. I don't have very defined criteria in music and lines in drawing.
Many things have space in my playlist and I'm always willing to listen to new things.

Rock and indie bands from the 90s and early 2000s are always present because this types of music I always listened a lot in my teenager and I confess that until today I am very excited about the songs that go from The Strokes, Nirvana, Arcade Fire, The Kills, Yo La Tengo, Sleater Kinney, Fugazi, White Stripes…and.the list is long.
Lots of Latin American music. Argentine, Colombian, Mexican and Venezuelan rock bands. Salsa, mambo, musicians like the Uruguayan Jorge Drexler, the Argentinian Fito Paez and Kevin Johansen.
In classical music I really like Mozart, Arvo Pärt, Max Richter, Philip Glass, Heitor Villa Lobos, Debussy, Chopin and his Nocturnes, that immense force of Richard Wagner, Ludovico Einaudi.
A lot of jazz, jazz in all its aspects, from the classics to the most experimental.

Artists like Tame Impala, Still Corners, Daft Punk, Khruangbin and Kruder & Dorfmeister. I love Belgian Hooverphonics, sitar player Anoushka Shankar.
The classics of life like Beatles, Madonna, Queen, Radiohead, David Bowie. Soundtracks of movies and series.
I currently live in Portugal and also consume a lot of Portuguese music, from fado, pop, to rock like Toranja, Jorge Palma, Ornatos Violeta, Amor Electro, Amália Rodrigues and of course a lot of Brazilian music is present in my heart, by Caetano Veloso, Gilberto Gil, Tom Jobim, Seu Jorge, Chico Cezar, Novos Baianos, Tim Maia, Lenine, Cartola. I've been listening to a band called Terno a lot, exceptional.

Also, not having music and having a quiet environment is very important to me, otherwise the head is full of noise.
What are you working on?
Currently I have been working with Fini Brasil candy, whose client originates in Spain, developing 2D and 3D characters. I have also worked for some publishers and advertising agencies in Brazil, but few.
My focus is on doing more work for the European continent. Now I am applying for European Funds, for art projects. I recently applied for DGArtes with a project in which I will make 15 panels to tell the stories of the village where I live, through black and white illustrations, with an overlapping visual narrative. I made this type of illustration when I was invited to illustrate the book of historical chronicles about that same village.
I'm also developing a line of illustrations for the region where I live called Ribatejo, which addresses many cities within a cultural framework. This project consists of working with cultural, historical and mythical themes of the region but with a more pop and colorful approach, from there I create a series of products with a common visual communication between all, from the point of view of the design of the characters to the palette. This helps people empathize more with the stories of the region.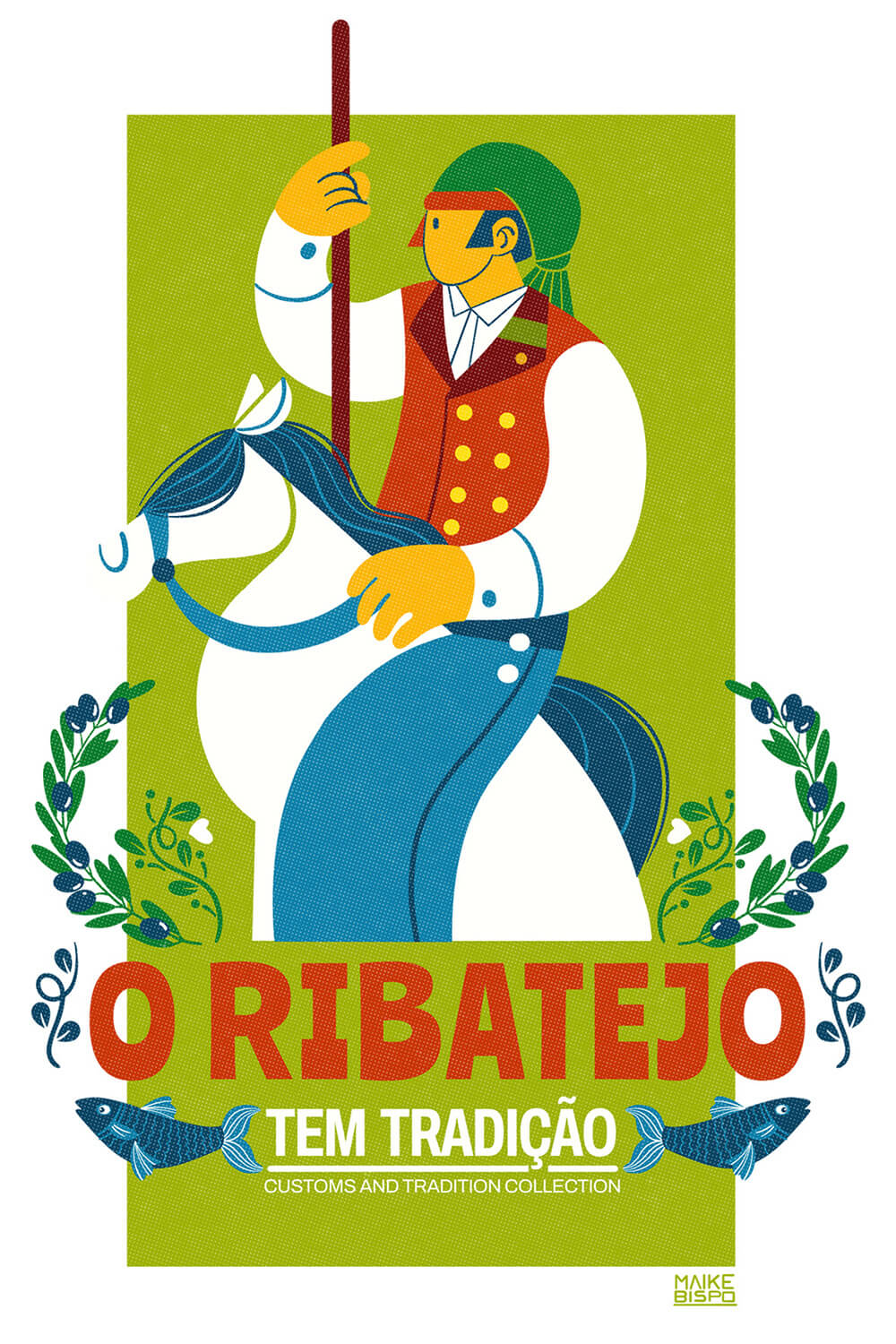 I am also starting to develop partnerships with entities in Portugal and France with the aim of creating projects related to illustration and education. Also I am starting to discover the NFT market.
I always have lots of ideas. At the same time, I always try to do some games as a challenge on my Facebook page in which I will choose up to 100 people I know to become cartoon characters…lol. This does not generate economic values ​​but it generates a very fun interaction, in addition to being a way for me to study and experiment with different visual styles.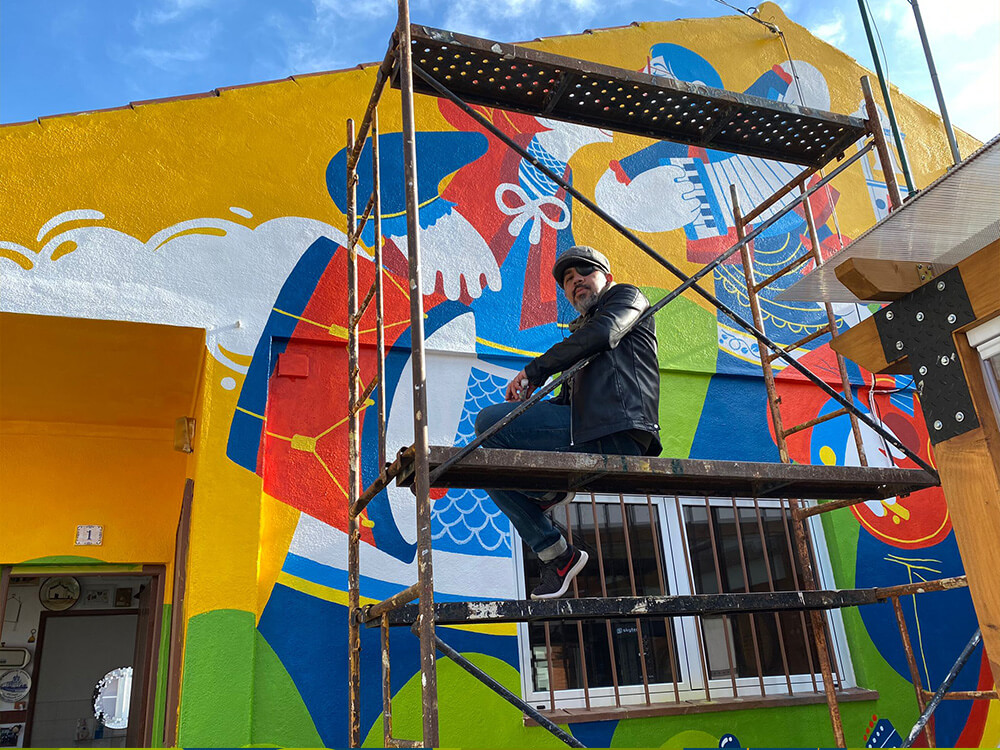 Maike's Facebook page
Maike's Instagram photo
Maike's Instagram illustration
Maike's studio
Maike on Twitter
Maike on Tabloud