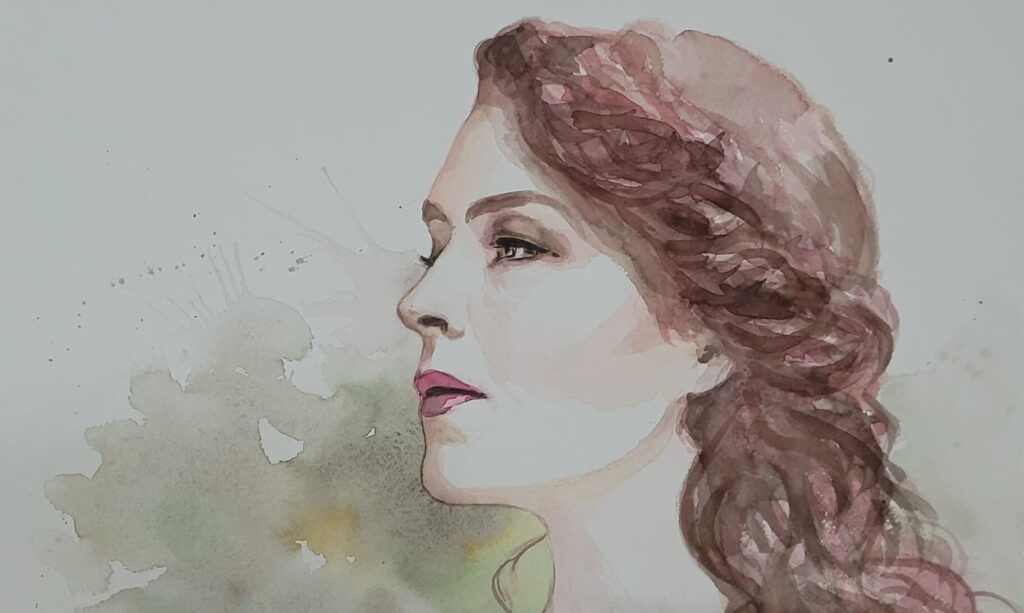 When I paint I use to listen to records by the subject I'm painting. I think it helps finding the right path to capture their true self.

Abi
In this interview Abraham Iglesias (Abi) speaks about his artistic journey with 90s sound and contemporary alternative rock and pop as inspiration.
Hi Abi, tell us a little bit about your artistic path. When did you decide to start painting?
I started drawing as a child. I was one of those kids who scribbled everywhere, from textbooks to magazines or even on furnitures. When I was growing up I became interested in manga, I drew my own comics and I started to color with pencils. But suddenly one day… I just gave it up. Don't really know why, but stopped drawing and for,at least, 2 decades.
Then, at the beginning of 2020, my partner gave me a watercolor set. I was going to have surgery, so I seized the time of the recovery to learn how to use them. And then, just when I was going back to the routine, the pandemic hit and we stayed locked up at home, givng me even more time to develop these new skills.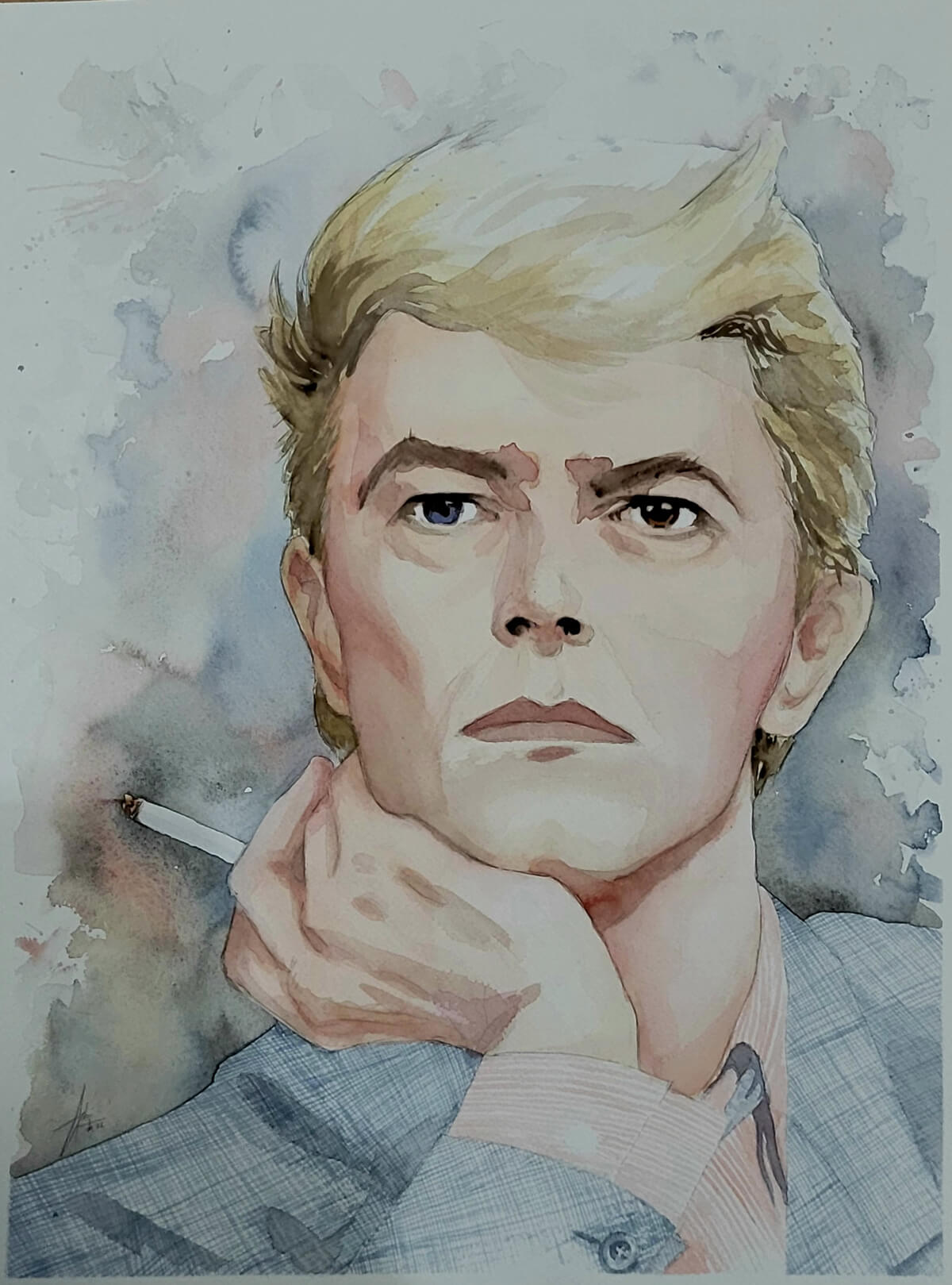 Most of your artworks are watercolors. What you love of this technique?
How would you define your style?
I think I'm still really new to watercolors, I'm still learning how they work and react. But they have this "surprise factor" that almost everyone hate, but I can't help loving.
I am not one of those who need to be in total control. Most of the time, I just don't even think about the colors I'm going to use. I let myself go. I paint a first layer (usually the face/ skin of the subject) and then I see it is screaming for light or dark colors, colder or warmer ones…
I don't think I have already a style of my own. Since I started I've been trying different things (making outer lines with ink, trying not to use pencil, using it so so so much that it is almost as important as the watercolors…). I'm still looking for this one thing to call "my style".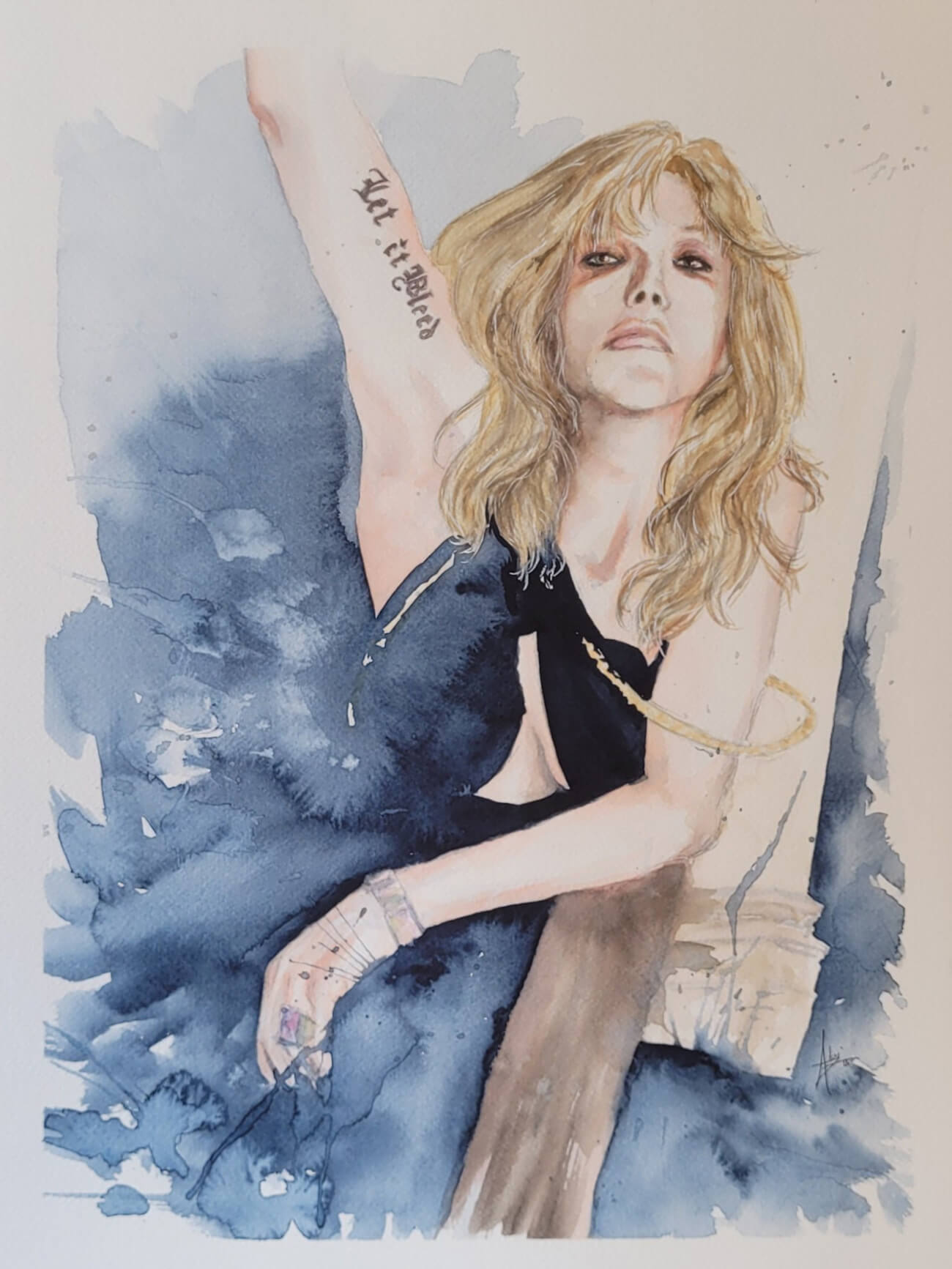 A lot of your artworks are portraits of musician or are inspired from their music.
Also, many of your subject are women. What inspire you? How are your portraits born?
Music is my life. I spend all my money in records. I love alternative rock and pop, specially women's and 90s sounds. My favourite ever, The Cranberries, they were the ones that introduced me to this world. They're followed by Hole and Garbage. And "newer" artists like Lana del Rey, Black Honey and Lucia & The Best Boys. But I do not only listen to women. I think most men in rock are very similar – I know it's not that way, but so seems to me. I really like men who are not afraid to sound different, tell different stories and sing or play in a different way. So, I love Bowie, Placebo, Smashing Pumpkins, Orville Peck, Suede, the first records of HIM and Muse… And well, pop! I love Lady Gaga, Marina or Florrie.
These are my main inspirations.
I keep a huge amount of pictures of these artists on my phone and pc on the folder "pics to paint". I usually don't like any of them, but I keep them because one day, you see "the one". And that's the next portrait!
Is there a soundtrack while you paint?
There's always a soundtrack in my life…! Except when on my "real" work, where I just can't have music, I'm always listening to something. Right now, for instance, I'm listening to one of my newest obsessions, Laura-Mary Carter first solo e.p. Town Called Nothing.
When I paint I use to listen to records by the subject I'm painting. I think it helps finding the right path to capture their true self.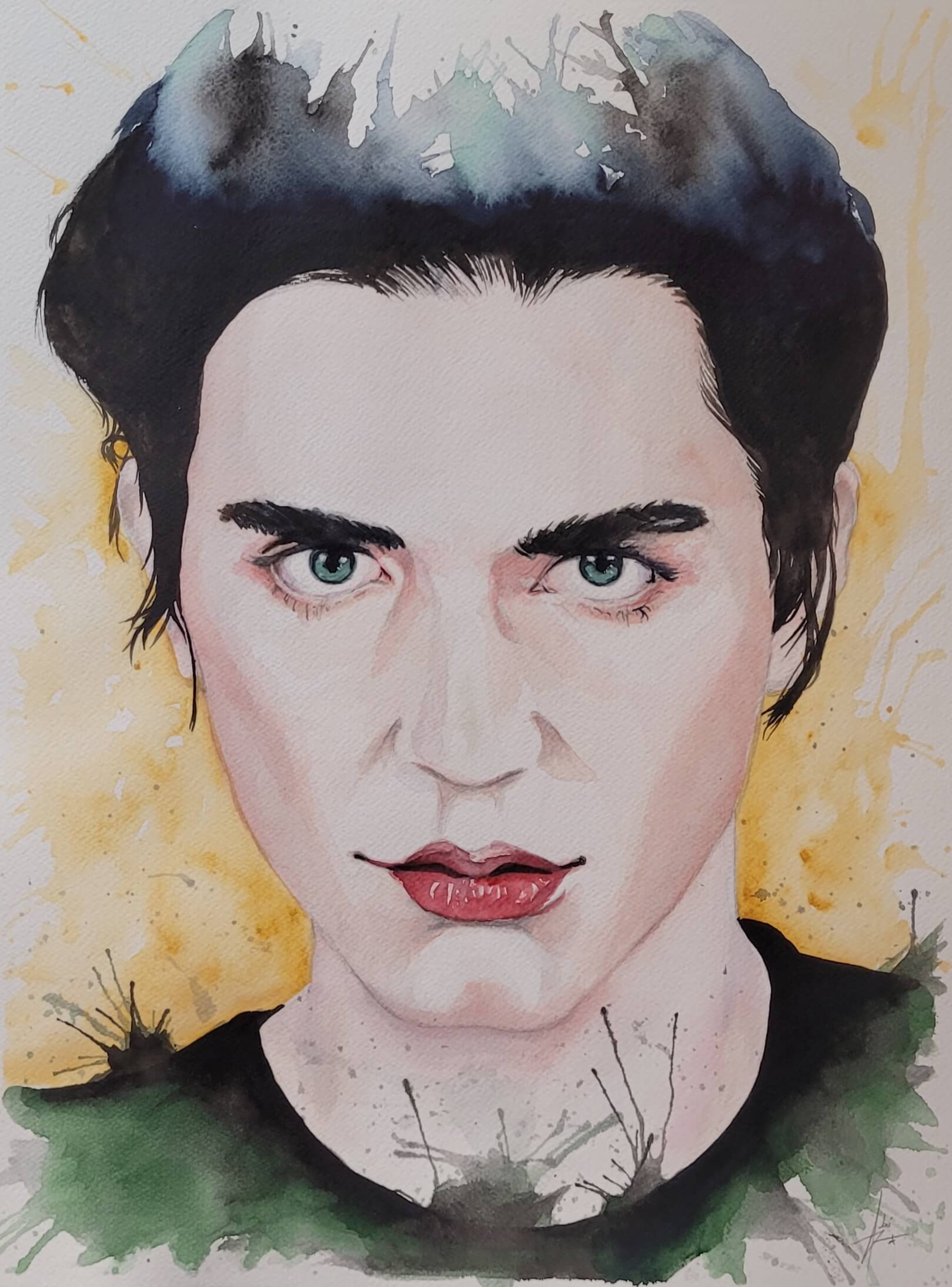 You sang in some bands in the past. What kind of music did you play? What do you think about the relationship between Music and Art?
I used to sing in some alternative rock bands, mainly guitar driven, sometimes with an electronic element. In fact, for two years I was on a techno pop band, it was really fun. But it never got anywhere, we were always too soft for rock fans, and too heavy for pop fans.
You always had to play for free (or even pay for playing, instead of being paid) and though I fought for it for years, finally I lost "that something". I've not been able to write a song for years now. Maybe that's one of the reasons I felt the need to express myself with another kind of art. I believe that music and art go hand in hand. You let them out of your guts so they cant enter into someone else's.
What are you working on?
I am currently worrking on how to develop my drawing and coloring skills.
Sometimes, when you have the pencil sketch It's really beautiful, but you ruin it when coloring it. And and vice versa, the drawing is horrible but when you color it… there you have it!
I'm also trying to learn to travel sketch. I have always loved to travel. I used to take a lot of photos, but at a point, somehow, it lost its meaning. That's why I'm trying to keep a travelogue. I still don't like what I'm doing very much, but I see a small evolution, so I think I'll end up doing good sketches one day.